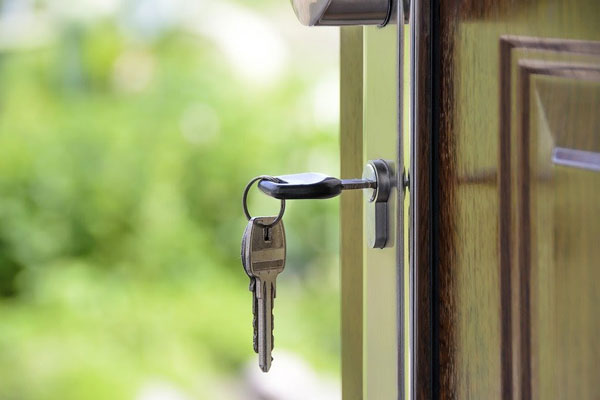 Door locks are one of the most important parts of your home. They let you feel safe, keep your privacy, and ensure your home is secured against potential break-ins. When researching what type of lock to buy during new home construction or a home renovation, you want to consider important factors like door lock function and style, which are both vital when making a purchase decision.
In this article, we're going to focus on choosing the style for your home. There are three main options to choose from: touchscreen locks, keypad locks, and keyed locks. Each style of lock comes with its own unique features, with some models carrying additional features. We'll look at each of these front door lock replacement options, common features, and their pros and cons.
Touchscreen Door Locks
Touchscreen door locks offer a great combination of sleek looks along with additional security features and the added convenience of using access codes to lock and unlock entry or back doors. These types of locks have become a popular choice for on-the-go homeowners. Touchscreen locks secure your home without relying on a physical key to allow entry or exit.
These keyless entry locks are available in a variety of styles and finishes to match your home's aesthetic. When it comes to choosing the right touchscreen door lock, you have to consider a few factors like your door fit and lock type, the ability to add and change access codes, integration with other smart home systems, and additional smart lock features like remote locking and proximity locking for added convenience.
Pros
This type of lock offers ease of entry with no keys needed
Access code rotation for added security
The convenience of allowing and denying entry by changing access codes
Peace of mind with the ability to track who comes in and out
Protection from lock picking or bumping
Connectivity with the rest of your home if need be
Cons
More reliant on battery power, which can die out (notifications do help)
Reliant on phones and networks, which comes with a risk of losing access
Potential of hacking, which can override entry codes to unlock your door (on the plus side, most touchscreen locks notify you of unauthorized access)
Costs significantly more than standard key locks
Keypad Door Locks
Keypad door locks are the most popular keyless entry option today. These types of locks are used to access gates, doors, and other secure areas in all types of properties. If you're considering these locks for a front door lock replacement or door lock upgrade, you need to consider a few factors, just like with touchscreen locks.
Pros
Ease of access
Access is not limited to one person—many can be programmed to allow access to multiple users
Access codes can be changed frequently
Reliable and safe keyless functionality with multiple features available
Notifications of any unauthorized access
Greater flexibility to access outside of the home
Cons
Reliant on power or batteries to operate which requires a backup to ensure continued functionality
Expensive type of lock compared to traditional locks—the higher the security level, the higher the cost
When hooked with another security system, costs may rise
Keypad door locks can be vulnerable to natural elements and possible vandalism, so they need sealing and protection
Keyed Door Locks
Keyed door locks are the most common type in the market today. They've long been the mainstay when it comes to securing front and back doors due to the high-grade security features they offer, their sturdy construction, and ease of use and installation. From deadbolts to two-way handlesets and keyed door levers or doorknobs, door locks with key access are your regular turn-key security measure and the most economical option.
When it comes to choosing the right type of keyed lock, you have to consider your door function, door lock security grade, ease of installation, ease of rekeying the locks, and cost. The good thing is there are reliable options, such as deadbolt locks, to enhance your security. The key lies in choosing the best fit for your doors.
Pros
Simple to use and install
Proven reliability with no security risks in a power outage
Different security grade options to choose from
Cost-effective with a wide range of choices on the market at affordable prices
More style options than other types of locks—you can find the exact style and finish you want
Ideal for front door lock replacement-select heavy"—duty grades
Cons
Difficult to control access, especially when you have multiple keys in different hands
Keys can easily be lost, stolen, or misplaced
If they do go missing, you have to rekey your locks or even replace them entirely
Carrying keys with you all the time can be inconvenient (consider key storage solutions)
Watch out for cheap knock-offs that can be easily tampered with
Shop Door Locks at Door Locks Direct
Whichever type of lock you decide to buy for your home, weigh the pros and cons of each door lock style you have in mind so you can make an informed decision. Be sure to check the features of your specific lock since features can vary, especially for touchscreen and keypad locks.
Find keyless locks, keyed entry deadbolts, and other types of door hardware to suit your needs at Door Locks Direct. We're the preferred residential door hardware supplier on the internet. Place your orders online and get free shipping and free standard rekeying. Call us to learn more.