Whether you're looking to add a little more security to your home or want to replace locks on a new home, Deadbolts are one of the most popular types of door locks in residential properties.
These types of door locks are available in a wide variety of styles, finishes, and security grades to match your decor and security needs. Unlike the commonly used spring-bolt locks in the market, deadbolt locks provide superior security for your exterior doors.
When it comes to buying the right locks for your property, you need to understand the options you have so you can make the right purchase.
Here's a short review of the most common kinds of deadbolt locks on the market:
1. Single Cylinder Deadbolts
The single cylinder deadbolt is the most commonly used type of door lock in residential properties. It's widely used in main entrances and requires a key to lock and unlock from the outside and comes with a metal latch that lets you lock and unlock the door from the inside. The thumb turn feature on the inside is designed to increase convenience by removing the need to have your key when you want to open the door for someone.
This type of deadbolt is also used in areas where fire safety is a concern, as the key is not needed when people are required to exit a building during an emergency. Many homeowners love these locks due to their efficiency, security assurance, and product value. Wide acceptability in the market means they're also affordable.
2. Double Cylinder Deadbolts
Double cylinder deadbolts function the same way as single cylinder deadbolts, except that they don't feature a thumb turn on the inside. Instead, a key is used to lock and unlock either side of the door. These locks are mainly used in homes where entry doors have glass panels, at it prevents burglars and intruders from opening the door when they break through the glass.
This type of deadbolt offers extra security for homes but is not recommended for doors with windows that could be used as emergency exits. The last thing you want is your family being stuck inside your home during an emergency situation like a fire with no access to the keys. Consider your options carefully before purchasing this kind of deadbolt lock.
3. Keyless Entry Deadbolts
These deadbolts offer the same level of security, reliability, and durability of both single cylinder and double cylinder deadbolts with the added convenience of a touchscreen or a keypad. Keyless entry deadbolts don't need a key for entry or exit as you only need to enter a uniquely created access code to lock and unlock the door.
With this type of deadbolt, you don't have to worry about losing, misplacing, or even forgetting your keys at work, ensuring peace of mind. Sometimes, an actual key may be provided to override the lock mechanism. The lock is more expensive than other deadbolts. It's good to be cautious when using the lock. If you think someone else has learned your access code, you can change it immediately with ease as many times as you wish.
4. Smart Deadbolt Locks
These are basically keyless entry or electronic deadbolts that come with an extra convenient feature - the ability to connect them to your smartphone or smart home hub for easy access and programming. These types of deadbolts provide superior security and allow homeowners to create personalized access routines and schedules that fit their day-to-day lifestyles.
For instance, if you arrive at your workplace and realize that you forgot to lock your door, you can lock it via your smartphone or your home hub from any location. You can also access the deadbolt lock remotely to command it to lock or unlock so you can provide access to your family, or simply check the status of your door security when you're on business travel or vacation.
5. Rim Deadbolts
Although not widely used, rim deadbolts are another kind of deadbolt lock that is exclusively installed on the inside of the door, instead of the exterior. Some homeowner's love this design as it allows the door to automatically lock itself once it's closed. This type of deadbolt is not as secure as other types of deadbolts because intruders or burglars can break open the door using brute force. Consider the level of security your home needs before making a purchase.
6. Vertical Deadbolts
Vertical deadbolts are great for providing additional security for your main entrance doors. They're installed on the inside of the door but at the top, instead of the usual installation points. The placement of the lock at the top of the door makes it impossible for an intruder or burglar to pry it open with a bar between the door and frame as can happen with some horizontal locks. This type of deadbolt is also bulky and can be an inconvenience for some people.
Protect Your Home With Premium-Grade Deadbolts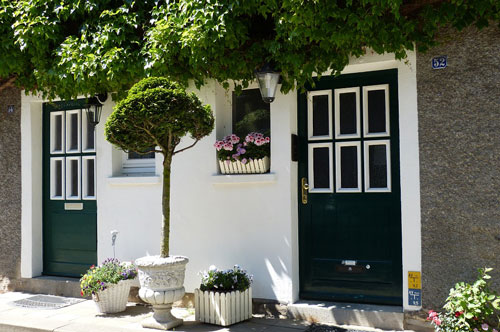 If you want to improve your home security, you must start with where security begins in your home: your entry doors.
The best locks should have:
anti-drill features, beveled casings or hardened case steel
long security plates to prevent kick-ins
ANSI Grade 1 Certification to ensure the highest security and durability performance.
You want to be sure that you're getting a quality lock. At Door Locks Direct, we bring you top-of-the-line deadbolt locks that you'll be proud to install in your home at an affordable cost. Step up your security and design styles with confidence by choosing different kinds of deadbolt locks at our online store. Need help selecting the right type of deadbolt for your entry doors?
We're here to assist you in choosing the right door lock design to fit every decor. If you have any questions, don't hesitate to contact us today at (866) 755-5625.