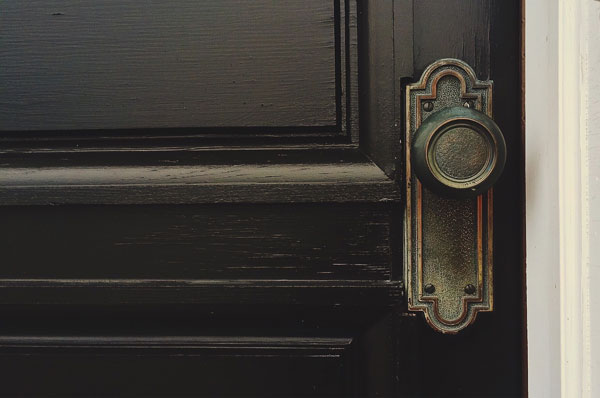 Door knobs play a key role in keeping your home or property safe. They're not only functional but also enhance the decor of a room. Whether you're replacing damaged door knobs or want to update the look and style of the doors in your new home, there are many different types of door knobs available to fit your needs. In this article, we're going to look at the different styles and functions available to you and how to choose the right door knob function for each door.
What You Need to Know When Shopping for Door Knobs
Make sure the door hardware will work with your door thickness
Take note of the door knob's required borehole size
Make sure replacement door knobs will fit your door
Check the required backset for your replacement door knobs
Determine whether the bolt or latch has round-corner or square-corner configuration
Door knobs purchased should be right for the application
Check the security grade for different types of entry door knobs
Look for premium-security designs with finishes that match your home's design theme

Half Dummy Door Knobs
Half dummy door knobs are non-locking door knobs that don't have to be rotated or turned when opening or closing a door. Instead, you simply pull on the door to open it. Half dummy door knobs are mainly used on double doors that close side-by-side, such as on cabinet and wardrobe doors.
These types of door knobs are decorative and ideal for applications that don't need a latch. They're available in a wide variety of designer styles and finishes to easily match your interior decor and architectural appeal. They're also simple to install and are an inexpensive option for non-locking applications inside your home.
Passage Door Knobs
Passage knobs are interior non-locking door knobs that turn freely and don't include a key. They operate with a latch and require rotation of the handle to open the door. Passage knobs feature two non-locking knobs on either side of the door and is ideal for hallways, closets, and rooms where privacy is not required.
These types of door knobs are also available in a wide variety of styles and finishes to blend in with your architectural appeal and interior decor. Unlike half dummy knobs or levers that don't turn, these knobs merely lack the locking functionality.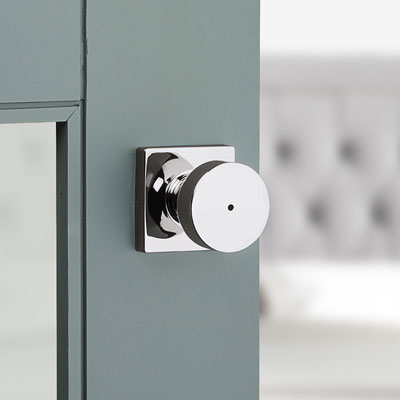 Privacy Door Knobs
Privacy door knobs are designed for interior doors. They can be locked and unlocked by an emergency key on the outside, and a push-button or turn button from the inside. This type of knob is designed for privacy instead of security. In case of an emergency, the lock can be opened from the outside with an emergency key or narrow object through a small hole on the outside knob.
This type of door knob is commonly used for bedrooms, bathrooms, and rooms that require privacy. Privacy door knobs are available in a wide variety of designs, styles, and finishes to complement your home's interior decor.
Storeroom Door Knobs
Storeroom door knobs are used for storage doors where outside door entry should always stay locked unless opened with a key. When the key is removed, the door knob lock returns to a locked position. From the inside, the door will open freely at all times. Even if the door is opened from the inside, the door will be locked again as soon as it closes. This prevents anyone from being trapped in a windowless storage room.
These types of door knobs are used in storage rooms and often come with a UL 3-hour fire rating, as well as a variety of styles and finishes to suit your needs. Make sure to check the rating on storeroom knobs and other types of locks to ensure premium storage security.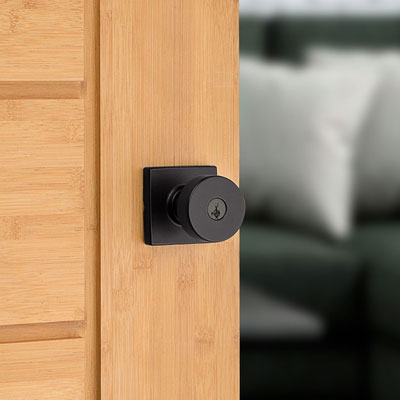 Keyed Entry Door Knobs
Keyed entry knobs are locked or unlocked with a key on the outside knob, or a turn button on the inside knob. This function is designed with an interior emergency exit feature just in case of a fire or other emergency.
In some instances, the lock/key mechanism can also be on both sides of the door. These knobs are mostly used on doors where added security is required, such as doors with adjacent windows or glass panels that are close enough for someone to break, reach inside, and unlock the door.
These types of door knobs are most commonly found on exterior doors, but they can also be used on interior doors. They feature a deadlatch that improves the security of the lock. Keyed entry door knobs often come with various security features, including security grading.
Shop Door Knobs at Door Locks Direct
If you want to learn more about door knob functions or shop the widest selection of door hardware, including handlesets, deadbolts, keyless locks, and door accessories, get started at Door Locks Direct. See our different types of door knobs and place your order today. We offer free shipping on orders over $299 and free standard rekeying.