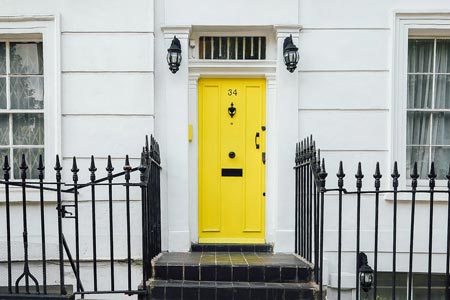 Your door hardware says a lot about the style and aesthetic you're trying to achieve. When selected carefully, doorknobs and handles can be the jewel that every room needs. No door is complete without the suitable door hardware. The choice you make when buying the right door hardware for your home will be a subtle yet essential detail. With so many door knob finishes to choose from, how can you choose a finish that sits well within the overall home design scheme?
From matte black front door handle sets to polished chrome interior door knobs, there are numerous styles and finishes available. Here are some considerations you need to keep in mind when choosing a finish for your door handles or door knobs.
Select a Finish That Blends in With Your Overall Design Theme
The most important thing when choosing a finish for your door hardware is ensuring that it coordinates with the overall design of the home. You might select interior door locks and other door hardware with a bronze or polished chrome finish that looks perfect in a door hardware store, but it looks out of place when paired with the elements of your home. With so many door knob finishes available, it's easy to select a finish without rethinking your interior design.
To make the right choice, think about the rest of the design elements in your home and coordinate the interior and exterior door knobs and handle finish with those unique elements. Remember to keep things simple. From contemporary and traditional to rustic or industrial, there are numerous finishes to blend in with your home's design theme and architectural appeal.
Consider Your Door Function
When choosing door knobs and handles, consider the specific door functions you have in mind. These functions will vary depending on your needs and include keyed entry, passage, privacy, storeroom, and half-dummy functions.
The door knob finishes you select for entry doors matter most because these doors are what guests see first. The right finish sets the tone for your interior space. For passage and privacy doors, a matching finish with your entry door hardware complements your overall style. However, you can select a unique finish with bold or colorful elements that vary by function and add unique style and inspiration to your interior space. What matters most is keeping in line with your interior design theme, whether contemporary or traditional.
Aesthetic Appeal Matters
While design and style matter when choosing door hardware, aesthetic appeal is also essential. You don't want to have door knob finishes that you don't love. If you like fashionable door hardware that offers a modern look, matte black front door knobs, handle sets, door levers, deadbolts, and other parts and accessories would be a perfect choice to match your style.
Every door hardware finish from black and bronze to antique brass or satin nickel has an aesthetic appeal that matches best with your style. Ask yourself if aesthetics matter to you and if it does, make a wise decision while keeping in mind the design, style, and functionality of your door knobs and handles.
Think About Your Existing Door Accessories
Whether you're buying new door accessories like door hinges and push plates, or replacing critical accessories like latches and strike plates, you have to think of their finish. So, when choosing door knob finishes, make sure the finishes you have on your existing door parts and accessories. If door hinges come with a satin nickel finish, installing door knobs or handles with the same finish would complete the look.
Shop Door Knobs and Handles Online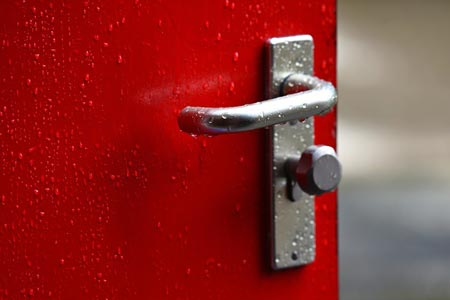 The right door knob or handle type is just what you need to set off your room's design. Whether you want to upgrade your locks with more secure matte black front door handle sets or want a privacy door lever for your bedroom or bathroom, Door Locks Direct has a perfect fit for your needs. As your preferred online residential door hardware supplier, you can count on us to deliver top-brand door knobs and handles in a wide variety of finishes, including:
Antique brass
Antique nickel
Bronze
Iron black
Polished brass
Polished chrome
Satin nickel
Satin chrome
Rustic bronze
Rustic Pewter, and others
Contact us to learn more about our door knob finishes or place your orders online now.