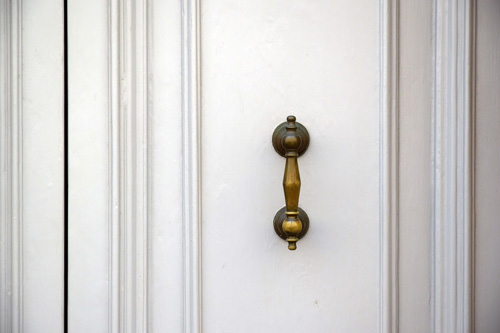 When it comes to home remodeling, the little details go a long way towards making a substantial difference in the end product. We're not talking about the big-dollar remodeling pieces, such as light fixtures, new paint, or appliances—but hardware, cabinet interiors, small matching finishes, and other interior treatments that leave an elegant finishing touch in your home.
Think of a front door remodel and the options you have in mind. A change of door hardware will do a great job of giving your entry door a fresh appearance. That's how effective little details can be. Here, we look at some small changes you can make to update your home.
Make a Statement With Stylish Door Hardware
Doors are one of the most neglected areas during home renovations. Most homeowners only think of changing locks after losing their keys or after moving. However, if you consider that the average house has more than five doors—an entry door, back door, privacy bed and bath door, and closet and hallway doors—you can see the opportunity you have to make an impact.
Whether you're planning a front door remodel or an interior door remodel, changing door hardware can make your doors look stunning. For instance, door handles get the most attention and interaction, so it's worth making them look elegant. Here are a few door hardware options you can consider for your interior and exterior door remodel:
Most of these door hardware options are easy to install and only require a screwdriver. They're available in a variety of styles and finishes to match your personal style and interior decor. Update your door hardware, including door accessories like door hinges and latches, to create a matching and refined look that enhances the overall look of your home.
Replace Your Locks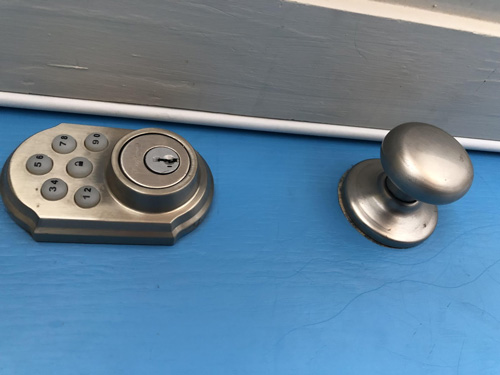 Door locks are meant to secure your exterior and interior doors. But apart from keeping your home safe, they also add great appeal to your doors. If you're thinking of a front door remodel, consider changing those old locks for something more beautiful. Just like your door handles, your door locks are one of the first decor elements that guests interact with when they visit your home.
Choose a style that matches your aesthetic. Small details like hardware finishes can mean the difference between a well laid-out or mixed-up look. You can either opt for deadbolts for superior security, keyless locks for convenient door access, or both.
Add Eye-Appeal With New Cabinet Hardware
Apart from getting door hardware for your front door remodel, you can also add eye appeal to your interior spaces with new cabinet hardware. Cabinets are the ultimate storage solutions in homes. You'll find them in almost every room, from the bedroom to the kitchen, living room storage room, closet, bathroom, and even basement storage.
Get new cabinet hardware, such as cabinet door knobs and pulls, cabinet locks, cabinet hinges, and latches and catches to give your home a well-deserved upgrade. Whether you want to create a contemporary, modern, rustic, traditional, or transitional look, simple swaps of your cabinet hardware can make a real difference. Just make sure everything blends in with your space.
Grace Your Bathroom With Bath Accessories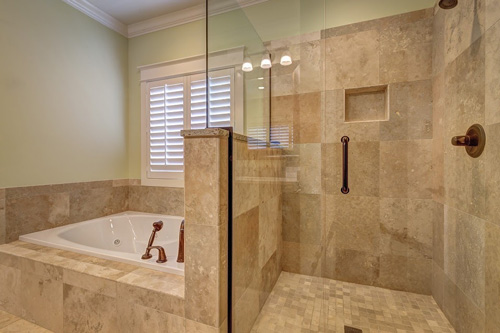 When remodeling your home, don't forget about the small details in your bathroom. Just like choosing door hardware when you do a front door remodel, there are small decor elements that can add a touch of class to your bathroom. Grace your bathroom with stylish and functional bath accessories, like towel racks, towel rails, tumbler holders, tissue holders, towel rings, tumbler holders, and robe hooks.
These accessories easily give your bath space a unique look and play a huge role in determining the overall style, appeal, and mood of your bathroom. With the right bath accessories, you can achieve a cozy and warm look for your bathroom. Most of these accessories are available online at budget-friendly prices. You can also find door knobs and cabinet hardware that match the finish of your other bathroom accessories so you don't mess up the overall aesthetic.
Create a Matching Finish
Whether you're planning a front door remodel or an interior door remodel, it's important to create matching finishes to unify your personal style. Don't just focus on the part that's being remodeled. Think of the other spaces in your home and individual decor elements.
For instance, if you install new doors and select handles for that door only, you're more likely to have a mismatched appearance unless you create a well-thought-out look for the entire house. Take your time to think of the small details and come up with a matching design theme and finish for your entire home.
Shop Quality Door Hardware and Accessories
If you're looking for top-brand door hardware, shop at Door Locks Direct. We offer efficient, pain-free online ordering and shipping of locks, levers, and deadbolts. Shop by product, finish, or brand now. Order your supplies today and enjoy free shipping orders over $299. We ship in 24 hours. If you have questions about your front door remodel, give us a call at (866) 755-5625.